---
Hot Toys AvP Predator Elder on Pre-Order at Sideshow and Other Goodies!
By Dan | Published March 06, 2016
Not sure if you guys noticed, but Sideshow collectibles has the Hot Toys Elder Predator figure on Pre-Order and it's still available! Last time I was actively selling these figures, they were selling for a DOUBLE what Sideshow has this at, so if you've always wanted to grab one of these, you might want to get your tail over to Sideshow and order one right away.  These figures are CRAZY detailed, I used to own the entire set and loved them!  These second gen ones looks awesome.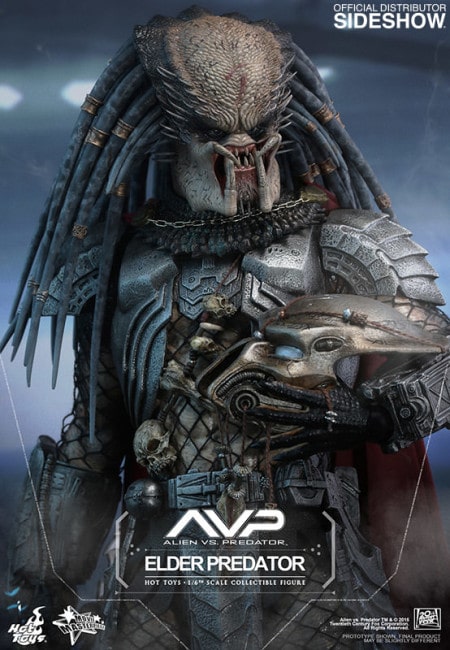 I've actually reviewed a couple of these figures before... I hated assembling them but they were killer when they were done.   You can check out my Predator 2 Elder review here and my Predator 2 figure review here.   Bear in mind these are some really old reviews, Hot Toys has really refined their manufacturing and these figures are better than ever now!
Sideshow also has a few other Predator goodies that are still in stock but VERY limited items left. They have the Predator 2 full-size mask available, the Pyramid Guard Predator Mask, the Square Enix Predator figure and it looks like Sideshow is still taking Waitlist reservations for the Predator 1 Mask. If you missed out on the P1 helmet, throw your name on the list, you have nothing to lose and you never know, they might have some extras become available.
That's about it from me for today, I've been working really hard at fixing up broken links and other areas of the site.  The lightbox galleries on sale items in the shop now works again properly with functioning fullscreen display (before it would load images too large), the lightbox on the news is fixed and I am slowly fixing all the images in the Predator Collectibles Index that are all busted and I added a lightbox to that as well.  I've updated the entire framework and fixed or suppressed weird errors and have been fixing up some broken links and such.  I see a ton of links and external sites no longer work so all that will be fixed as well.
I also tried sending a newsletter and only 75 went out before I realized an issue with the script.  I'll need to fix that before I can resend.  FUN STUFF!
Hope you all have a great evening... back to work tomorrow.
Dan